A HOUSE WITH A HISTORY BEHIND IT
We find ourselves right in the center of sun-blessed South Tyrol, on a hilltop at the entrance of the Gardena and Funes valleys. Close to the Dolomites mountains, but not far away from the popular towns of Bolzano and Bressanone, it is an ideal starting point to explore the region. The apartments are situated in a historic farmhouse under urban heritage protection. This truly unique building - characterised by its uneven walls and doors, its graceful vaults, arcs and passages - has been shaped and reshaped again throughout the centuries.
The guesthouse is part of a farm consisting of the farmhouse, a large garden and a barn. The historical name of this farm was Thunisch-Hof, the farm of earl Thun. Since my idea was to upgrade and modernise the historic structure, I also changed the name accordingly to Thunish Design Apartments.
At the beginning of the twentieth century my grandfather was the tenant of this farm and the fields belonging to it. My father grew up in this house and lived there until he was twelve years old. His memories of it, however, are not just pleasant ones. His former bedroom, which due to its wood paneling is now classified by the urban heritage protection committee as one of the most valuable rooms in the whole house, had very thin outer walls offering little protection against cold winter nights.
Being in a miserable state, the building then stayed uninhabited for nearly thirty years. It was not easy to picture where one could possibly even start the restoration works. But with imagination, perseverance and hard work we did it. After a yearlong renovation, Thunish Design Apartments opened its doors in April 2019.
Hi, I'm Daniel!
Travel is my passion. It is my source of inspiration and driving force. I love to host and to be hosted, and now, I am excited to welcome you at Thunish Design Apartments.
I am thirty-something, born and raised in South Tyrol, and determined to make you not just feel welcome, but at home.
HISTORIC FARMHOUSE RE-IMAGINED
We we went out of our way to preserve the invaluable historic substance. In fact, now this truly unique building - characterised by its uneven walls and doors, its graceful vaults, arcs and passages - shines in a new splendor. The old wooden beam and floor structures have been dismantled, washed and brushed the antique wood, selectively replaced rotten parts and finally put them back at their rightful place. We have integrated new elements with uttermost care choosing preferably natural materials and fabrics.
Set in a stark contrast with the historic building, we have furnished the apartment with the modern, contemporary furniture of the interior design wizards from Lago Design. Characterised by its lightness, the furniture almost gives the impression that it is floating in the air. Those who pay attention will notice that none of the furniture seems to touch the floor. In fact, kitchen, sofa, beds and shelves are supported only by transparent glass panels, creating this floating effect of the furniture. We are a proud member of Lago's WELCOME platform, a network of boutique hotels and design b&b's. Visit our dedicated page to find out more.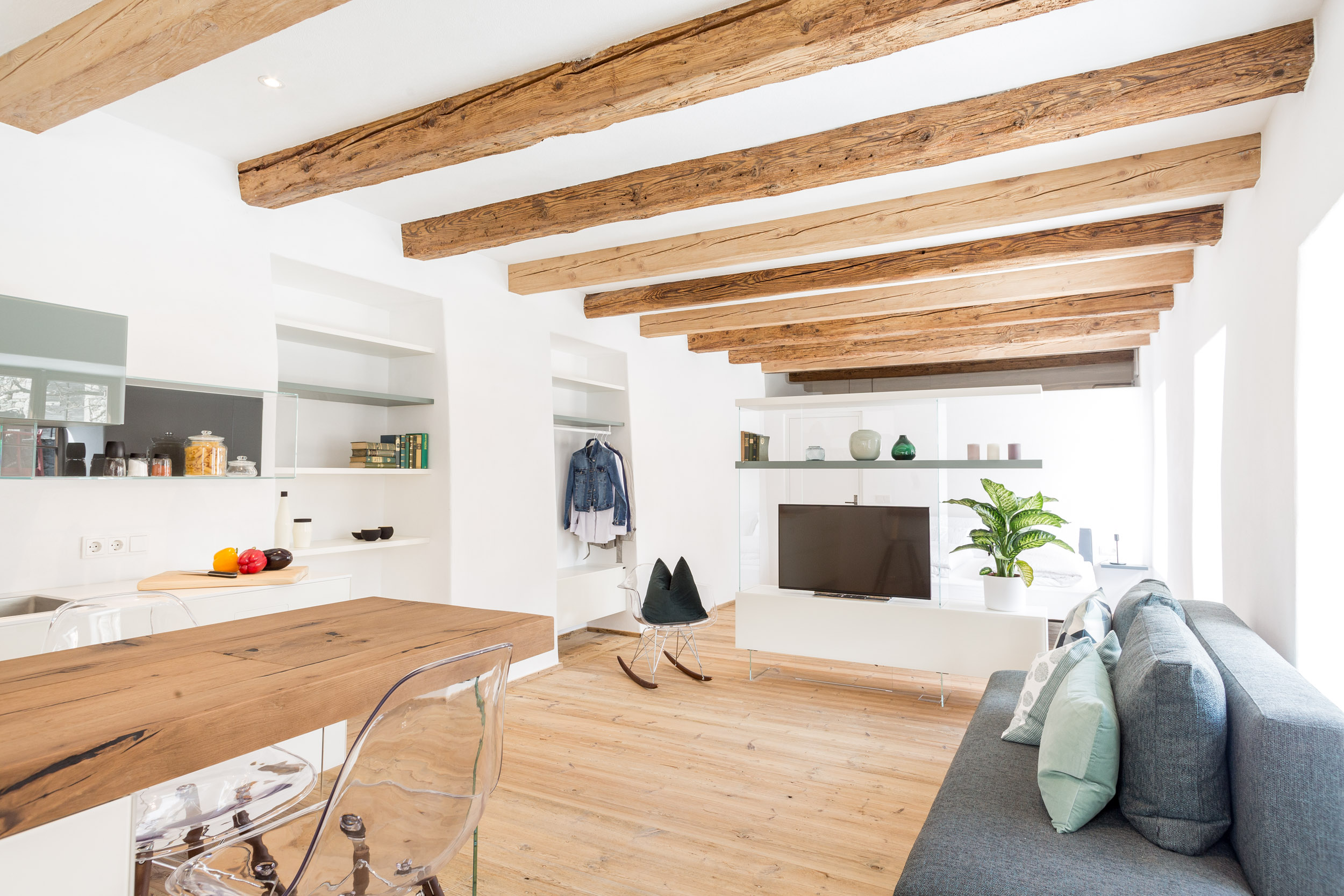 Stylish design apartments with modern furniture and all amenities for a truly pleasant stay.
Check our selection of exceptional experiences, activities and locations in the area.
We are looking forward to receiving your inquiries and will be happy to answer your questions.